Brazil's booming economy bounced back rapidly from the devastating impact of Covid-19 and 2021 was an amazing year for M&A in most sectors. Technology was popular but the high-value deals were in energy. Many more deals included private equity and venture capital, particularly in technology, finance and insurance. We don't expect any of these trends to wane any time soon and Brazilian assets generally will remain very attractive.
Over the past four years the underlying trend for both volume and value of M&A deals in Brazil has been upwards, with the curve getting steeper as the first impact of the Covid-19 pandemic started to dissipate. The pace really accelerated in 2021 with 2,401 deals reaching an aggregate value of 343,909.76 BRLm. That's more than double the value for 2020 and a solid 30% up on 2019, which was at that time almost twice the value of the preceding year.
The most active sectors, and biggest deals
The first was technology with 440 deals, followed by financial and insurance with 234, followed by distribution, healthcare, consultancy, and engineering.
Cross-border transactions increased dramatically, though domestic deals were also up. And while Covid-19 hit Brazil particularly hard, it seems that the appetite for Brazilian assets barely faltered. The aggregate value of domestic deals in 2021 reached 164,067.56 BRLm, slightly less than the value of the cross-border deals which came to 179,842.20BRLm.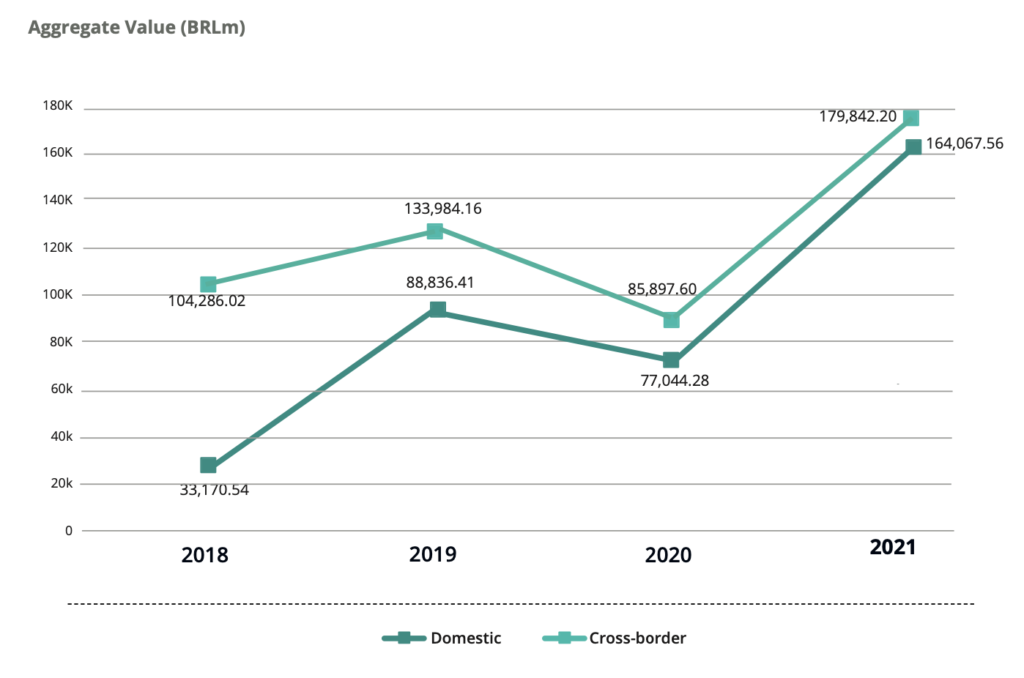 The biggest deals involving a domestic buyer were in distribution and retail; renewables, technology, fashion and textile, financial and insurance, and education. The largest of these was online retailer B2W's 8,370.75 BRLm purchase of Lojas Americanas, the sixth-largest retailer in Brazil with stores in every state. B2W has already captured half of Brazil's online shopping market and plans to expand through multiple distribution channels. The second-largest deal was power company Omega Energia's merger with Omega Geraçao, reflecting the continuing interest in renewable energy generation.
Acquisitions by foreign buyers were fairly static across 2018 but after a sharp rise at the end of 2019 and an even sharper fall at the start of 2020, there has been a steady increase in the number of deals, albeit that the value of those deals has not yet surpassed those in Q2 of 2019. Nonetheless, the aggregate value of the 415 deals in 2021 was 116,938.2BRLm, two and a half times that of 2020 and over twice that of 2019.
Three of the largest inbound cross-border acquisitions related to renewable energy; the largest being Golar LNG's sale of its Hygo Energy Transition venture to New Fortress Energy, a further step on the road in the latter's ambition to become the world's largest provider of carbon-free power. Hedera Investimentos sold the sugar cane producer Biosev to Raizen Energia, one of Brazil's largest energy companies, and the Ontario Teachers' Pension Plan bought Evoltz Participacoes from the Seville Funod de Investimento at a value of 3,000BRLm. Other big deals were the sale of the payment platform Getnet and Codevision's acquisition of the education platform iScholar.
The most popular sectors for foreign investors
Again, technology was the favorite, accounting for 262 deals, but financial and insurance were also attractive, followed by consultancy, audit and engineering, and distribution and retail. Buyers from the US were most numerous but investors from a dozen other countries did more than 10 M&A deals each in 2021. The US was also the biggest foreign divestor, selling off 29,950.80 BRLm worth of Brazil-based assets. Exits were mostly in the technology sector but there were also several in financial and insurance, internet services, healthcare, hygiene, medical aesthetics and cosmetics, electric energy, transport, aviation and logistics, and distribution and retail (in that order). However, the value of acquisitions was almost double that of divestitures.
Outbound cross-border acquisitions
Deals were up by 33% on 2020 with Sumitomo Corporation selling Sierra Gorda to South32 minerals in a deal worth 8,540.58BRLm. Other exits were in the food industry, sports and distribution, and retail. The sectors of most interest to Brazil-based buyers were technology, finance, transport, and internet services. Destination countries were mostly the US and LatAm but also the UK, Canada, other European countries, and Israel.
Brazil-based companies sold equity abroad in technology, distribution, finance, real estate, transport, automotive, consultancy, event production and management; fashion and textiles; sport and leisure; tourism, hotels and restaurants; agriculture/agribusiness, construction (materials and machinery), forestry, marketing, steel, etc., and telecoms, with the largest exit being the sale of the insurance broker Grup MDS to the Ardonagh Group for 1532.46BRLm.
Interest in energy and renewables is clearly not going away with 89 deals in electric power, 36 in oil and gas, 19 in solar, 16 in wind, and a handful in biofuel, hydro, biomass, and geothermal.
Real estate (9106 deals) and construction (51) were big winners, with an international suite of buyers spending 2328.55BRLm to acquire the online real estate marketplace Loft Holdings and CSN Cimentos buying Cimento Elizabeth for 1080BRLm.
Among the industry subsectors, the food industry saw the most deals, with Kerry's sale of their consumer foods business to Pilgrim's for 4061.84BRLm. But there was also a lot of activity in steel, metallurgy and industrial production, glass, ceramics, paper, plastics, wood and timber, pharmaceuticals, parapharmaceutical and cosmetics, chemicals, automotive, consumer goods, fashion, aerospace, and shipbuilding.
Natural resources were popular, with 78 deals in agriculture/agribusiness, farming and fishing, 26 in mining, and 9 in forestry. Hedera Investimentos' sale of Biosev was valued at 3600BRLm and the agrobusiness Terrus bought IPA Investimentos e Participações Agrícolas and its subsidiaries, including Insolo Agro-industrial, for 1800BRLm.
The biggest education deal was Laureate Education's sale of their university network to Ânima Educação, the fourth largest private provider in Brazil, for 3973BRLm. And there were 30 deals in waste management, pollution and recycling and 24 in tourism.
Private equity
Over the past three years, the role of private equity has grown slowly but steadily and accounted for over 6% of transaction value in 2021. The number of deals using PE was up almost 40% on 2020 and the trend seems likely to continue.
The most popular sector for private investors was distribution and retail but technology, finance, and healthcare also attracted a lot of interest as did consultancy and engineering.
Deal flow has fluctuated over the past four years, even if we disregard the blip for COVID-19. In 2021 the number of deals and their aggregate value were both a lot higher in Q1, with a second peak in Q3 taking the overall value of transactions to well over double that for 2020.
Comparing domestic and cross-border deals, there was a slight drop in the number of domestic deals but a significant rise in cross-border transactions compared with 2020. And while the value of domestic deals continued to rise, albeit slowly, in 2020 the trend for declining values suddenly reversed, taking the 2021 figure to almost 30% more than that for 2018.
Investments far outweighed exits; the former were less numerous than in 2021 but much higher in value.
Excluding cross-border, the largest PE investment in 2021 was the 1440BRLm in Compass Gas and Energia, with the other three largest being in real estate, technology and telecoms.
In terms of volume, the most active subsectors were distribution and retail, technology, finance, healthcare, agriculture, and telecoms. But it is a different picture when it comes to value with finance and insurance just in front of oil and gas, followed by technology, then transport, highways, and biofuel taking the other spots. Waste management, pollution and recycling deals numbered 30 but didn't make it into the top 20 for value. But the 26 deals in mining took the sector to sixth place with an aggregate value of 21,685.21BRLm.
Inbound transactions cross-border were up on 2021 but domestic deals were down, both in number and value. The most domestic deals were in distribution and retail, technology, finance, and agriculture but the highest value transaction was in oil and gas, followed by real estate, then telecoms, with finance in fourth place.
Most PE investment came from the US, with Mexico and UAE also players. The US interest was mainly in finance and healthcare, though Advent International's acquisition of the payment platform Ebanx was the largest investment using foreign PE funds that year. The second-largest was the sale of Concessionaria Rota das Bandeiras UAE's Mubadala, and the third was Petrobras' sale of Refinaria Landulpho Alves.
Domestic divestments were concentrated in finance, technology, and distribution while the US and Singapore exited from a range of sectors but mostly from technology, transport, and finance.
The outlook is not without concerns. The OECD is only projecting 1.4% economic growth for Brazil in 2022 and 2.1% in 2023. Supply chain issues and higher interest rates, as well as political uncertainty, have taken a toll. Unemployment is still high. But the vaccination campaign is working and economic activity is being driven by consumer spending and private investment. The post-pandemic recovery worldwide means strong demand for commodities and exports have benefited from a weak exchange rate.
Venture capital
Venture capital had been accounting for a slowly increasing share of transactions over the past four years but, after a slight drop in response to the Covid-19 pandemic, this share rose much faster, reaching an aggregate value of 66308.44BRLm in 2021, with Q3 being the most active.
The number of deals was up by more than half on 2020 and the value almost quadrupled.
Venture capital was a key player in just over half of the 947 technology deals in 2021, just under half of those in financial and insurance and distribution and retail, and a third of the healthcare and consultancy deals.
Excluding cross-border transactions, the biggest VC deal by some way was Perfin Mercury's acquisition of Nexway Eficiência, but there were high-value deals in a number of other sectors including marketing and technology.
Technology saw the most deals and the highest value. Financial and insurance, followed by consultancy audit and engineering, distribution and retail, education, healthcare, internet, and marketing and advertising made up the rest of the top eight but when it came to value third place went to internet transactions with food beating education and real estate and transport, with aviation and logistics making the top nine for value.
The domestic cross-border split was interesting with a dramatic increase in the value of cross-border transactions in 2021, over four times as much as for 2020. Domestic transactions were also up by about a third in both dumber and value.
By far the most targeted sector was technology with 308 transactions worth 2575.38BRLm. The next three sectors in terms of volume were financial and insurance, consultancy, audit and engineering, and distribution and retail. But while finance and insurance were second in terms of value third place went to electric power. The same four sectors were the biggest targets for foreign VC with internet transactions taking third place when it came to value.
US venture capital was the biggest acquirer but Argentina, Germany and the UK were the next three on the list. Japan, Singapore and China were also big players. For Brazil-based VC the areas of interest were also the US and LatAm though the UK, Israel and Luxemburg also saw deals.
The two most targeted subsectors were technology and financial and insurance but internet, agribusiness (78 deals), distribution and retail, transport, aviation and logistics, education and the food industry also saw significant investment and there were 30 deals in waste management, pollution and recycling.
Excluding cross-border, the biggest transactions involving foreign VC funds included two sets of buyers for Nubank plus a couple of deals in the real estate sector and in technology, not forgetting sports and leisure, with the deal for Gympass valued at 1087.36BRLm.
Technology and financial and insurance were the sectors with the two highest-value transactions but healthcare made it to seventh place and the combined value of investments in renewables accounted for a good third of the value of all transactions involving VC in 2021. The 26 deals in mining took the sector to sixth in value, at 21,685.21BRLm.

2022 Handbook for the Brazilian M&A, private equity, and venture capital
Covid-19 has had a devastating impact on public health but the war in Ukraine could well push up demand for Brazilian energy and even the looming presidential election seems unlikely to dent the desirability of Brazilian assets.
iDeals has also published the 2022 Handbook for the Brazilian M&A, private equity, and venture capital , in association with Transactional Track Record. This report provides full details of the scale of Brazil's investment activity in 2021. It includes vital information for anyone wanting to know more about the prospects for the rest of 2022, access the Handbook.