Brought to you by the M&A Community in association with Mergermarket.
Led by the financial services sector and big deals in energy (including renewables), mining and utilities, deal prospects are extremely promising as the region sees a rapid recovery from the devastating impact of Covid-19.
Latin America was badly affected by the Covid-19 pandemic, with the region's economy contracting by 9.4% in 2020, compared to 3% globally. But there are encouraging signs of improvement with predicted growth of 4.1% in 2021.
In parallel there is growing confidence among dealmakers. In H1 2021 a total of 376 deals were announced, worth US$66.9bn, almost double the number for H1 2020. And with six months still to go, the total deal value already exceeds 2020's.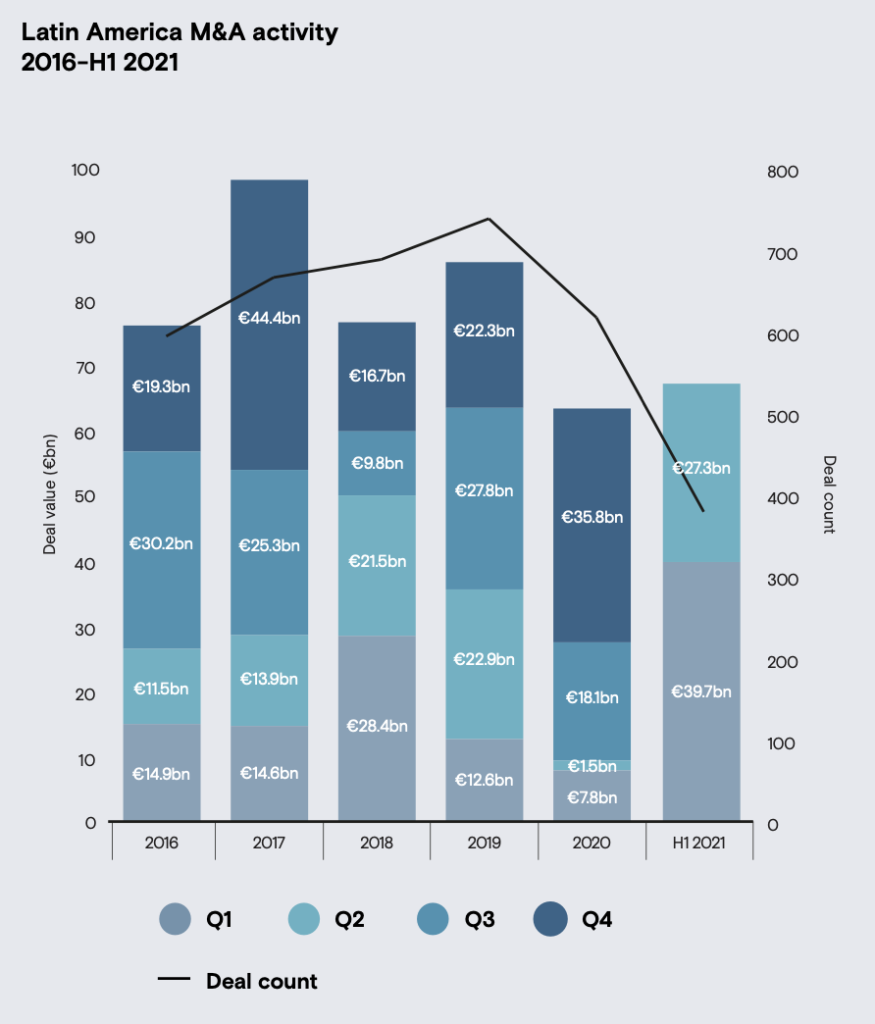 There have been record investments by international companies with five times as many deals in the first six months compared with last year, and the highest H1 value since 2014. Inbound deals saw a lull in 2020 but there have been 124 announced so far in H1.
US bidders were particularly active, exemplified by Univision Communication's US$4.8bn acquisition of Mexico-based Grupo Televisa's media, content and production assets to create a Spanish-language media company operating in both the US and Mexico.
Domestic bidders were extremely keen, with both the number and volume of deals being higher than for several years. Most of these deals involved both a Brazilian buyer and seller, including the largest for the whole region. Most of these deals involved both a Brazilian buyer and seller, including the largest for the whole region.
This was Hapvida Participacoes e Investimentos' US$9.9bn acquisition of Notre Dame Intermedica Participacoes to create Brazil's largest hospital chain.
The highest deal values were in the financial services sector, which increased its share of overall M&A from 7% in H1 2020 to 37.4% in the first six months of this year.
There was also a string of big-ticket deals in energy, mining and utilities, pushing aggregate value to more than seven times H1 2020's US$1.8bn. The highest value of these was US energy infrastructure company New Fortress Energy's acquisition of liquefied natural gas (LNG) provider Hygo Energy Transition. Another US energy infrastructure company, Sempra Energy, acquired the remaining 26.24% stake in Mexico's natural gas provider Infrastructure Energetica Nova (IEnova). The plan is for IEnova to combine with Sempra's LNG division to focus on LNG and natural gas infrastructure, as well as renewable energy generation.
LNG is seen as a cleaner alternative to fossil fuels and Brazil passed legislation in October 2020 to open up its natural gas distribution and LNG markets to private investors, which looks set to encourage further international interest in the sector.
Private equity activity remained resilient; particularly exit activity, with a record deal value of US$16bn recorded for H1, albeit almost entirely in Q1. The number of deals was the highest half yearly total ever, driven by several big-ticket exits, including Bain Capital's US$9.9bn sale of Notre Dame Intermedica Participacoes in the financial services sector.
Outlook
The H1 activity level shows that there is underlying market resilience and an enduring appeal for high-growth assets. Dealmakers' optimism is growing as economic conditions improve across the whole region and international bidders are particularly interested in energy. There is still some wariness about a potential resurgence of the virus but prospects for H2 are looking good.
The M&A Community is a forum that focuses on relevant investment topics, cross-border M&A and private equity within the prevailing economic climate.
The forum hosts events, conferences, and workshops which bring together key players and expert opinions to discuss the challenges and solutions to help companies conduct and navigate cross-border investment strategies, M&A deals, tax regimes, legal risks and potential cultural conflicts.
Become a Speaker speakers@mnacommunity.com
Become a Partner partners@mnacommunity.com
Powered by iDeals Virtual Data Rooms
A VDR is a document repository, usually in the cloud, for storing and sharing sensitive information between businesses. In an M&A transaction, VDRs are primarily used to facilitate the M&A due diligence review process.
Specific VDR features depend on the provider and scope, size, and industry of the M&A transaction. Traditionally the seller in an M&A transaction hosts the VDR. However, in some cases a buyer may already have a VDR subscription and may opt to facilitate the process by hosting the data room.
Visit the iDeals website to download a white paper on how to make your next VDR work for you.