According to the EY Global IPO Trends Q3 2023, from January to September 2023, there were 968 IPOs globally, with US$101.2b capital raised.
However, despite this significant decrease, corresponding to a 5% and 32% decrease YoY, respectively, the market in Q3 started showing clear signs of improvement compared to Q2, especially in post-IPO share price performance.
Letícia Doniak, Corporate Venture Capitalist at Santander Brasil, and author at https://notesbyleticia.substack.com/, has shared her insights on the comeback of IPOs in the shorter and medium term.
The current IPO scenario
The great moments of liquidity have taken a hiatus lately. However, 3 tech companies have broken this barrier: Instacart, Klaviyo and ARM Holdings, mainly ARM, which was the biggest IPO of 2023.
The IPO scenario last year was the lowest since 2009, focusing on Venture Capital-Backed IPOs the number is even lower, with 25% Venture Backed in 2022, 41% in 2021, in line with 2019 (45%).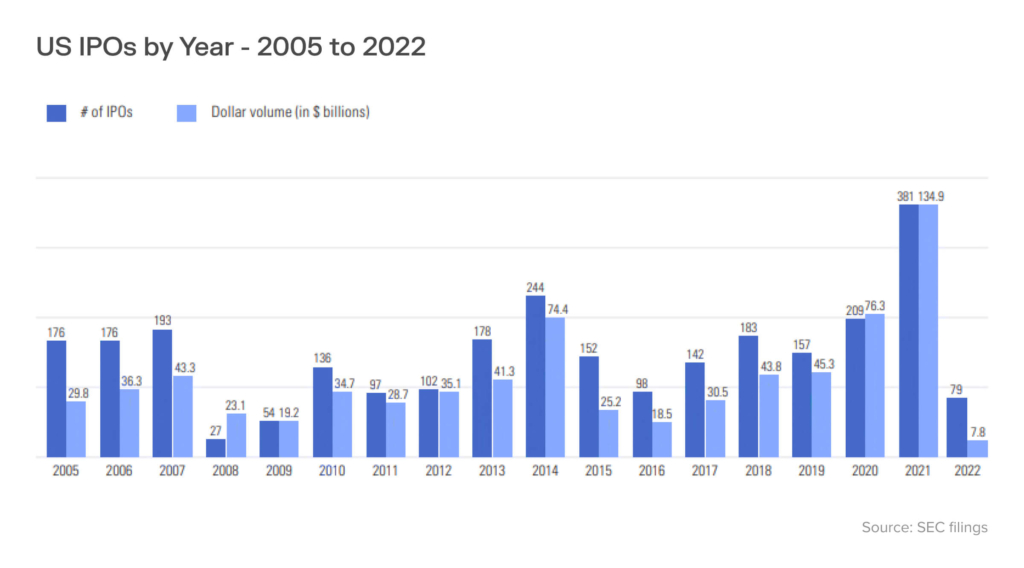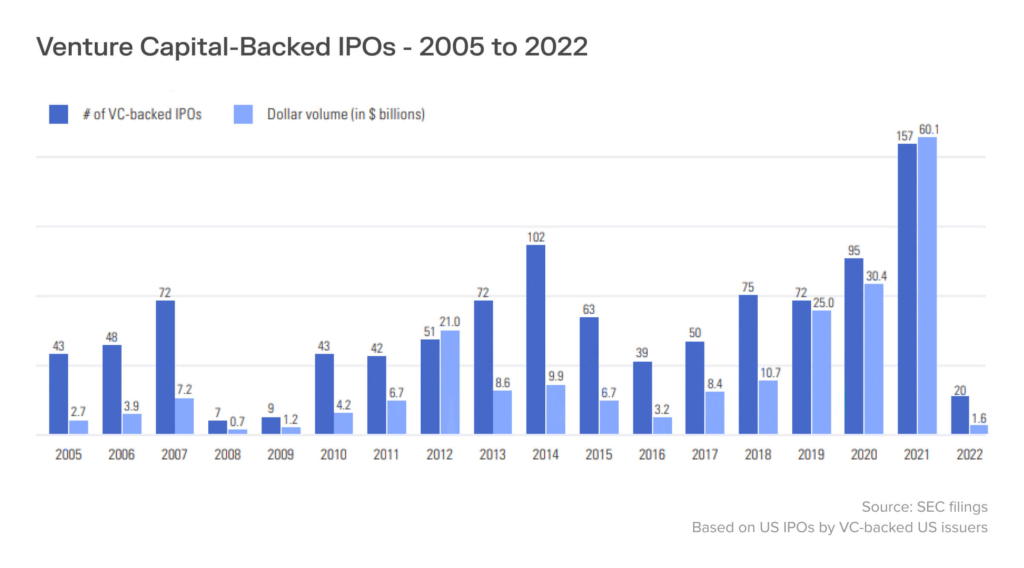 Due to the current market situation, many companies are waiting for a better time to carry out their IPOs, creating a very large IPO queue.
In recent years, there has been a longer time to reach the public market, due to the greater investment opportunities in the private market. There is also a misalignment of metrics and expectations between the private and public markets. Companies have been burning cash for extended periods, which doesn't align with what the public market prefers to see.When combining this with the current market moment, an estimated backlog of 219 companies is observed, up to the period analyzed by the study.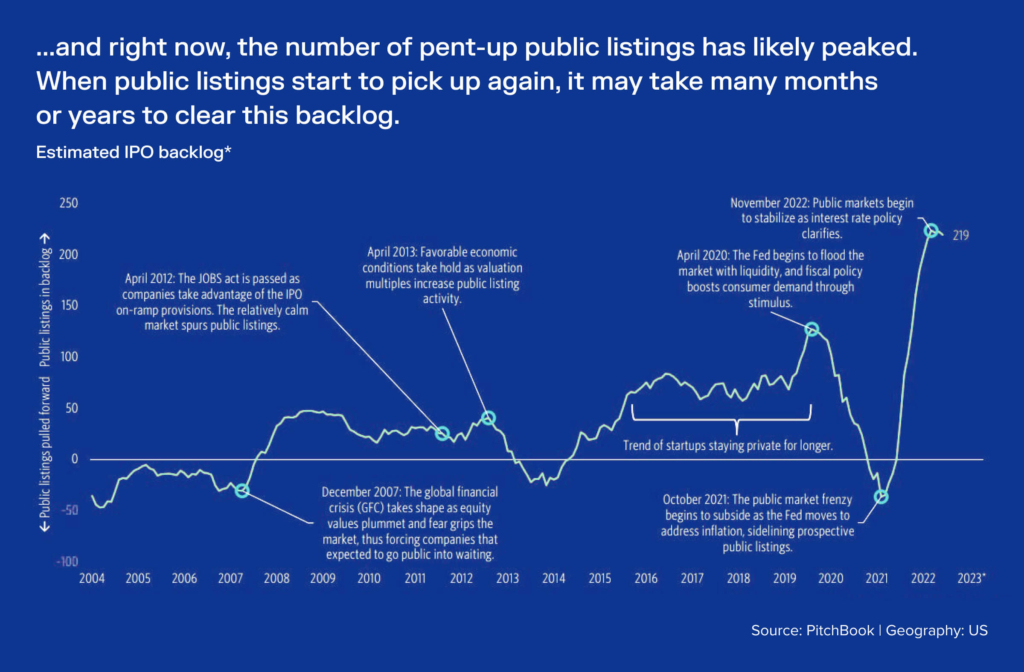 This scenario could take years to stabilize again, returning to the historical average. The possible opening observed by the last IPOs carried out could be the necessary signal for this backlog to begin to be released into the public market.
The 2023 biggest IPOs
As previously mentioned, in recent times, 3 tech companies registered the biggest IPOs of 2023:
Klaviyo (KVYO): 20 September 2023
Instacart (CART): 19 September 2023
ARM Holdings (ARM): 14 September, 2023
Was it a good investment?
What was the result after these three IPOs? Let's have a look:

Klaviyo (KVYO), 20 September 2023
Klaviyo practically had a flat round with the IPO. It didn't bring significant gains, but it also didn't result in a big loss. This situation can potentially be recovered by waiting for the company's appreciation.
Klaviyo is a marketing automation software company with a different investment trajectory than what we usually see lately. They raised their first round only after already generating a profit and have maintained a consistent profitability streak.
The company was profitable in the first six months of 2023, a rare achievement among both 2021's class of IPOs and the current crop of Cloud 100 private companies looking to go public in the near future, as reported by Forbes.
Instacart (CART), 19 September 2023
Lastly, Instacart, which had the biggest pricing difference between the last round and market cap at the IPO.
ARM Holdings (ARM), 14 September 2023
ARM had a different history, in addition to being totally related to the growth of AI in the world, it was purchased by Softbank in 2016 for USD 32 billion, becoming private again, and leaving the London Stock Exchange. With a final purchase of 25% at a valuation of USD 64 billion, its last valuation being prior to the IPO pricing.
Looking at the 3 events, those who really lost the most were the previous investors who participated in Instacart rounds.
The table below has been circulating on LinkedIn lately, and the main takeaway is, from investments in Series C, no investor obtained a positive return, in relation to the company's exit value, when compared with the return of the S&P 500.
Therefore, from 2015 onwards, investors would have had a better return if they had invested during that time in the S&P 500 index on the American stock market.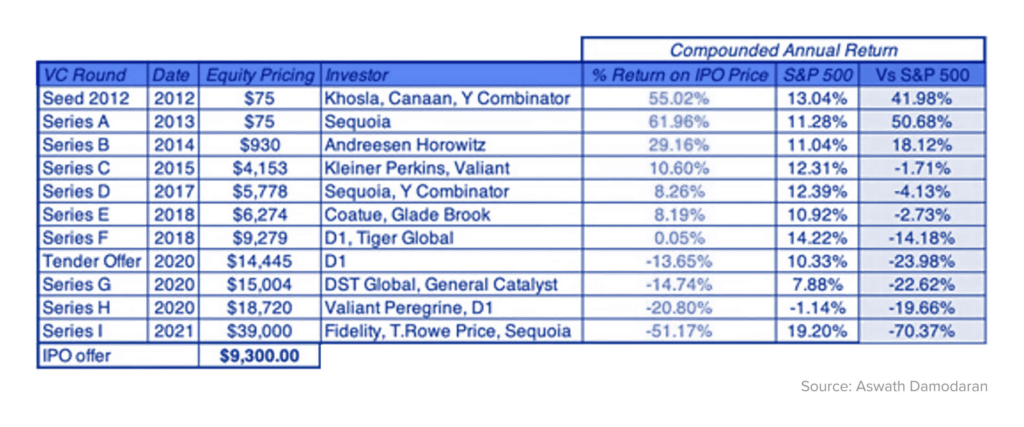 The comeback of IPOs
In these 3 liquidity events, I believe that the door to IPOs is being opened again. However, it is being done with caution. We will soon have more moments of liquidity again, although not always with a good return for previous investors.
I am excited to see what will happen in the coming months and the repricing that will continue to occur, especially in late-stage rounds.