Brought to you by the M&A Community in association with Mergermarket.
As both economies bounce back from Covid-19, infrastructure and construction are driving domestic dealmaking, while the rapidly growing tech sector is the big attraction for foreign investors.
The economies of China and Hong Kong are recovering rapidly from the impact of the Covid-19 pandemic. China was the only major economy to have expanded in 2020 and its GDP growth rate is much higher than other countries. With the currency in a relatively strong position it is expected to see growth of 8.1% this year. Hong Kong's economy shrank by 6.1% during the pandemic, but is forecast to grow between 3.5%-5.5% in 2021.
This improving economic outlook is translating into greater deal activity, notably in infrastructure and construction. Helped by global inflation, depreciation of the US dollar, and strong state support in the Asia-Pacific region, China and Hong Kong recorded a total of 963 deal announcements (compared with 815 for the same period in 2020) worth US$296.4bn – an 88.5% year-on-year increase.
As the pandemic spread there was more concentration on internal opportunities. China's domestic activity grew to near record levels in H1, with the biggest deals being in infrastructure and the construction sector. Regional domestic deal value totaled US$276.4bn in H1 on 873 deal announcements, almost double the number seen in H1 2020. Nine of the 10 largest deals were intranational, including the mega-merger between Chinese infrastructure companies Sichuan Railway Investment Group and Sichuan Transportation Investment Group – valued at US$111.5bn it is the largest deal of the year by far.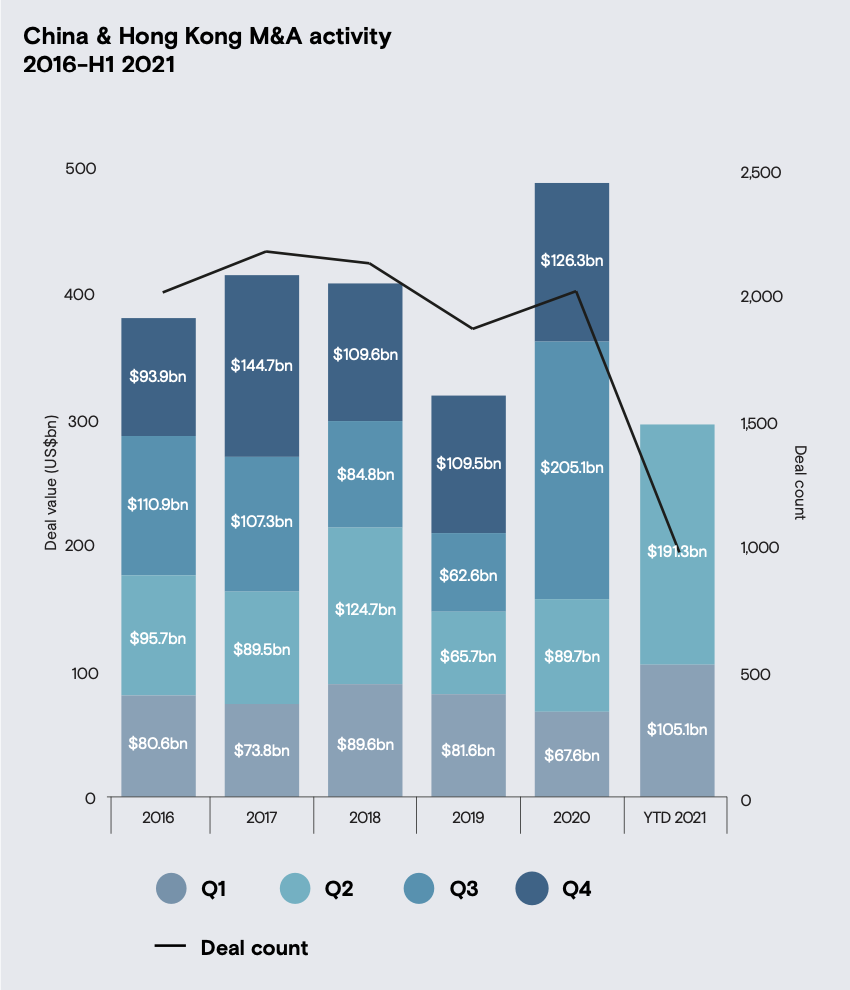 Hong Kong also saw domestic activity increase in H1 with significant consolidation. The most valuable deal was Jardine Matheson Holdings' delisting of its second-largest unit, Jardine Strategic, in a US$5.5bn buyout deal aimed at simplifying the company's structure.
In terms of foreign investment, US buyers are flocking to China, while Hong Kong is attracting European interest, particularly from Austria and France. Just under US$20bn-worth of inbound deals were recorded, on 90 transactions, roughly on a par with H1 2020.
French utility company Suez's acquisition of the remaining 42% stake in Suez NWS – its China-focused wastewater treatment services provider – for US$538m demonstrates the French company's commitment to expanding its operations within the region.
But the largest inbound deal of H1 was Blackstone's US$5.7bn acquisition of a majority stake in real estate firm SOHO China, with Blackstone reported to be confident about China's long-term economic prospects and the potential of the Beijing and Shanghai office markets.
The technology sector is second only to construction in appeal, with the rapid growth of China's gaming industry the main attraction. There were 119 deals targeting tech firms in the region, representing a year-on-year increase of 59.2% in value terms, including the US$4bn purchase of Shanghai Moonton by ByteDance's video games unit Nuverse which puts TikTok-owner ByteDance in direct competition with Tencent, China's biggest video game company.
The Chinese deal market saw a year-on-year rise in buyout activity reaching a value of US$38.5bn, the highest half-yearly sum since H1 2018's US$45bn.
Digital healthcare, e-commerce, e-learning and projects related to carbon neutrality are also seeing increasing interest from domestic dealmakers.
Outlook
The inward focus looks set to continue, with more consolidation expected later this year. However, international corporates and PE houses all secured deals in the first half of the year and the high-growth tech sector is a big draw for international firms wanting to get into the Asian market.
Notes
The M&A Community is a forum that focuses on relevant investment topics, cross-border M&A and private equity within the prevailing economic climate.
The forum hosts events, conferences, and workshops which bring together key players and expert opinions to discuss the challenges and solutions to help companies conduct and navigate cross-border investment strategies, M&A deals, tax regimes, legal risks and potential cultural conflicts.
Become a Speaker speakers@mnacommunity.com
Become a Partner partners@mnacommunity.com
Powered by iDeals Virtual Data Rooms
A VDR is a document repository, usually in the cloud, for storing and sharing sensitive information between businesses. In an M&A transaction, VDRs are primarily used to facilitate the M&A due diligence review process.
Specific VDR features depend on the provider and scope, size, and industry of the M&A transaction. Traditionally the seller in an M&A transaction hosts the VDR. However, in some cases a buyer may already have a VDR subscription and may opt to facilitate the process by hosting the data room.
Visit the iDeals website to download a white paper on how to make your next VDR work for you.