Brought to you by the M&A Community in association with Mergermarket.
Real estate, pharma, industrial and chemicals and technology deals are the key areas of global interest in an area renowned for its economic stability.
Bearing out its long-held reputation for economic strength and stability, the DACH region proved resilient to the impact of Covid-19. Although regional economies were hard-hit, there has been extensive government support and a rebound in global trade which are underpinning strong investment growth.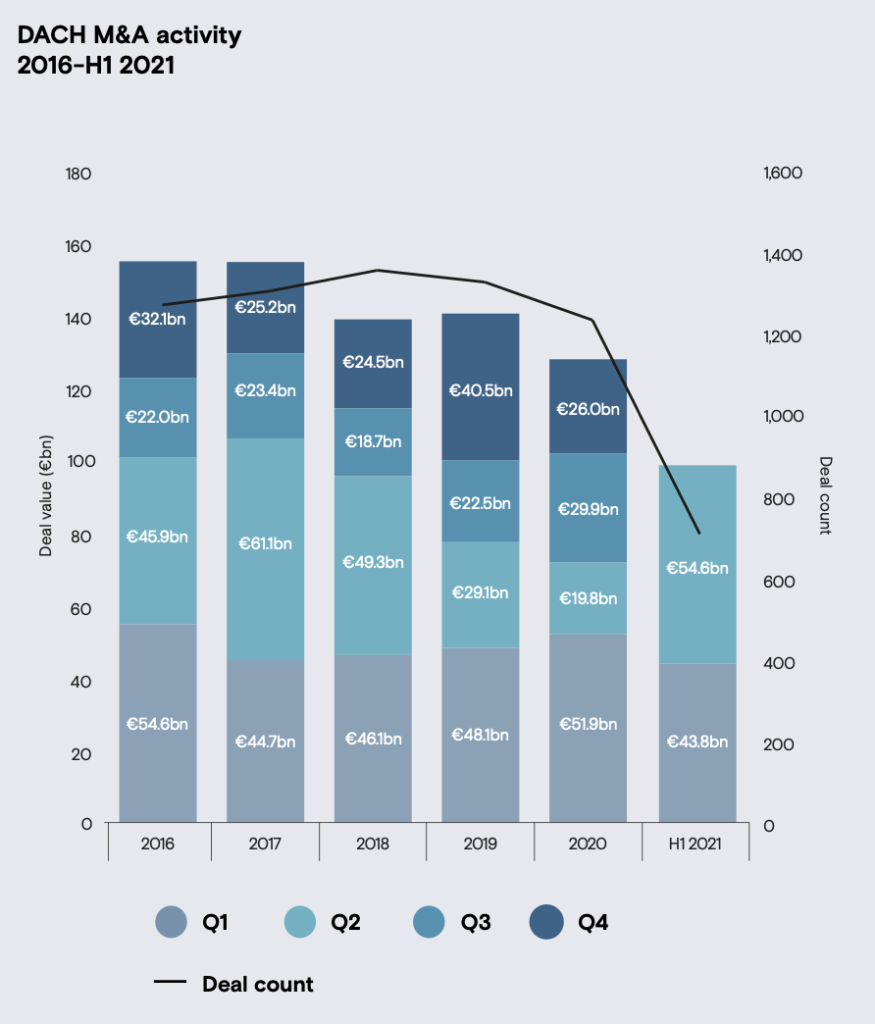 The German, Swiss and Austrian economies are all forecast to see a return to growth in 2021 – the OECD is predicting 3.4% for Austria, 3.3% for Germany, and 3.2% for Switzerland.
Improved economic prospects have prompted more deals. A total €98.4bn-worth of deals were announced in H1 – up 37.2% compared to H1 2020. A deal count of 700, meanwhile, represented a year-on-year increase of 160 (29.6%). And momentum built as the year advanced with a total of €54.6bn changing hands in Q2 – the highest quarterly value since Q2 2017.
Germany continued to attract the lion's share, up to 76.5% of the region's deals in H1 2021. All in all some €75.2bn-worth of deals targeting German firms were recorded – almost 46% compared to H1 2020 and the highest half-yearly deal value on record. A deal volume of 520, meanwhile, represented an increase of 102 transactions (26.2%) year on year.
Interest from international buyers fueled regional activity in H1 with the total inbound deal value being the highest H1 aggregate since 2017, and already accounting for around two-thirds of 2020's annual inbound total. There were 333 inbound deals announced in H1, up 45% from the same period last year.
US bidders were especially active, being involved in eight of the 10 largest deals of H1. The biggest was Telefonica's €7.7bn sale of its subsidiary Telxius' Towers division in Europe (Spain and Germany) and in Latin America (Brazil, Peru, Chile and Argentina) to American Tower Corporation.
US-listed SPACs were also active in H1, reflecting the high-growth potential that investors see in the region. Among these deals: Montes Archimedes' merger with Swiss biopharma company Roivant, and Yucaipa's agreement to merge with SIGNA Sports United.
Real estate generated the highest value across all sectors, led by a batch of big-ticket deals that included US Starwood Capital's acquisition of Austrian developer CA Immo for €4.2bn.
The highest number of deals were in industrials and chemicals, with the biggest being the €3.9bn purchase of Swiss chemical firm Lonza Speciality Ingredients by US investors Cinven Partners and Bain Capital and Canadian pension investor Public Sector Pension Investment Board.
Regional buyout activity was robust in 2020 and went on to deliver the highest half-year volume on record. And the 61 transactions announced during H1 2021 with an aggregate value of €32.4bn meant a record deal value as well.
Outlook
Assets in the DACH region definitely retain their appeal, as demonstrated by the amount of dealmaking activity in H1. As economic prospects, both regional and global, improve still further, we expect the stability of the DACH economies to be a big draw for investors.
The increased interest from SPACs highlights the attractiveness of the region's assets, especially within the high-growth pharma, industrials and chemicals and technology sectors. Dealmaking could well reach new heights in the second half of 2021.
The M&A Community is a forum that focuses on relevant investment topics, cross-border M&A and private equity within the prevailing economic climate.
The forum hosts events, conferences, and workshops which bring together key players and expert opinions to discuss the challenges and solutions to help companies conduct and navigate cross-border investment strategies, M&A deals, tax regimes, legal risks and potential cultural conflicts.
Become a Speaker speakers@mnacommunity.com
Become a Partner partners@mnacommunity.com
Powered by iDeals Virtual Data Rooms
A VDR is a document repository, usually in the cloud, for storing and sharing sensitive information between businesses. In an M&A transaction, VDRs are primarily used to facilitate the M&A due diligence review process.
Specific VDR features depend on the provider and scope, size, and industry of the M&A transaction. Traditionally the seller in an M&A transaction hosts the VDR. However, in some cases a buyer may already have a VDR subscription and may opt to facilitate the process by hosting the data room.
Visit the iDeals website to download a white paper on how to make your next VDR work for you.