Global revenue expectations: The case of UK and Spain
In a survey conducted by Deloitte about 2023 commercial real estate outlook, global revenue expectations for 2023 are mixed: 40% of the surveyed professionals point towards an increase, 48% suggest a decrease, and the remaining 12% are inclined to believe that there will be no changes.
These results help understand why 33% of the respondents are planning to cut costs compared to last year with an increase of +25%.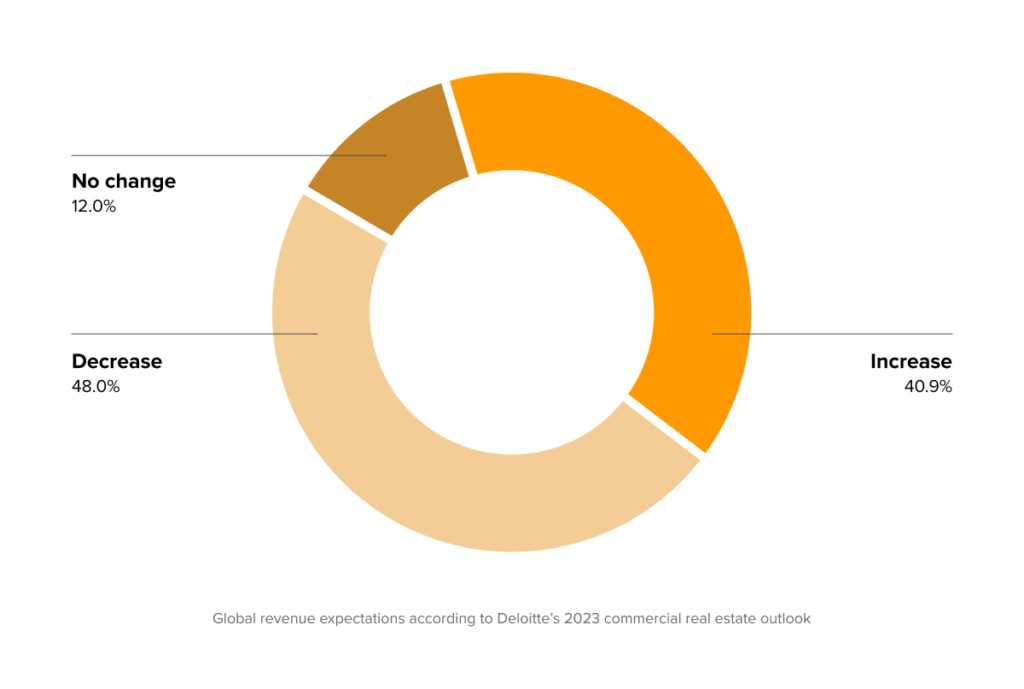 In the UK, for example, the commercial property market had to face the impact of high interest rates that negatively influenced buyers' activities and properties' valuations overall.
For instance, capital values have fallen by 20% since July 2022 according to the CBRE Monthly Index, even though there was a meaningful improvement as the month-on-month fall in October 2022 was near 7%, while in February 2023, it was 0.5%.
The country is still facing a risk of recession, but the combined effect of high employment levels and significant government support for households through the energy crisis, hints to a mild to shallow recession, though prolonged, for the rest of the year.
In Spain, the commercial real estate industry closed 2022 with the best results in its history. But the country has entered 2023 facing challenges that are common at a global level: the impact of the Russia-Ukraine war, high interest rates and a rising cost of living. Besides, 2023 was a busy year for the country with local and national elections that took place in July 2023.
All that considered, forecasts indicate that 2023 will probably close with a downward adjustment of around 20-30% in investment volumes.
A round table discussion with Javier Bravo, Salvador Grau, and Mohamed El Madani
The M&A Community has recently organized an informative round table chaired by Santiago Puente from iDeals, one of our most active partners. Santiago and his guests had the chance to discuss and share their take on the real estate market with a specific focus on the Spanish landscape.
The panel touched upon different topics, such as:
The impact of the economic and political climate
The driving factors in the current real estate market
The different types of investment approaches
The necessary security measures for real estate transactions
The benefits of technology and specifically VDRs in real estate transactions.
Disclaimer
We would like to thank our guest speakers and remind our readers that insights shared in this panel will be fully published and further expanded in a report about the real estate landscape in Iberia by TTR and in a white paper about the use of VDRs in real estate by iDeals.
How has the recent economic and political climate affected investment opportunities in the European market?
Mohamed:
In Europe, the increase in interest rates and Euribor has generally had the most impact, resulting in a significant slowdown in the market and a decrease in transaction volume.
Salvador:
At this moment, most of the transactions that were underway have been halted due to the change in economic conditions.
Javier:
I agree, uncertainties brought about by rising inflation and the economic weakening due to the war in Ukraine continue to pose potential challenges for real estate investors.
Additionally, listed real estate companies and large open-ended funds are currently experiencing a significant correction in the markets.
This correction may be compounded by the need to refinance their debts, which may be expensive in the current environment, leading many to sell assets. However, this will also bring about positive opportunities in all segments of the real estate market.

How have these challenges impacted the Spanish market?
Javier:
In the Spanish market, the asking prices requested by sellers tend to take longer than in other markets to adjust. In the last few months, we have seen very few deals closed due to the increase in interest rates and the fact that the initial yields of the different opportunities have not been adjusted.
Mohamed:
In some countries like Spain, there has also been a political component with regional and general elections, which has increased uncertainty and consequently led to a greater market stagnation.
Additionally, in the Spanish market, there was a lot of uncertainty surrounding all assets related to Build to Rent due to widespread fear of potential government intervention.
Javier:
Still, some asset classes are performing above their historical performance, such as residential and logistics, but the increase in financing above the entry yields at which they have been transacted and the increase in construction costs make it impossible for transactions to take place.
What are the main factors driving investment decisions for 2023?
Javier:
In the current real estate investment climate, factors driving investment decisions within the region are varied and complex.
While each country is moving at a different pace, many investors are currently waiting for the capital market to stabilize and for the valuation adjustments resulting from the recent changes to be completed.
Mohamed:
The main factor is how interest rates are going to evolve. There has been an announcement of an interest rate increase in July and another Euribor increase is expected in the last quarter of the year.
Salvador:
Given the difficulty of finding attractive returns for investors, there is a shift towards assets with a greater need for refurbishment/CapEx for their transformation to assets that comply with all ESG parameters.
In addition, these are operations with low leverage that could benefit from higher re-leveraging in the future.
And talking specifically about Spain?
Javier:
In Spain, the year 2022 was marked by a notably positive performance in the hotel sector,
achieving record investment figures. However, in the first quarter of 2023, the country went through some of the problems that other European countries experienced in the previous year.
Despite this, it is anticipated that activity will pick up again in the second half of the year, and deals will start to close, given there is sufficient liquidity in the market.
Mohamed:
In Spain, many investors are also waiting for a downward price correction. There should be a 10-15% drop across all asset classes, and this price correction is being delayed partly due to some overvalued specific transactions that are dynamizing the market.
However, there is still a huge amount of liquidity in the market that investors are preferring to leave in cash, but we expect a very strong last quarter of the year in terms of transactions.
In addition, REITs are now entering their asset rotation cycle, which will bring more dynamism to the market.
ESG has become a hot topic for almost all investors, no matter the industry. What's the role of sustainability in investment decisions for the hospitality market in Europe's major cities?
Javier:
Sustainability considerations play a vital role in investment decisions for the hospitality market in Europe's major cities.
Institutional and core funds typically prioritize investing in operations where assets comply with ESG criteria, as it facilitates access to financing and generates greater revaluation of investments and cost savings.
In countries like Spain, where the tourism sector has a long-standing tradition, there are ample opportunities for investors to upgrade existing hotel assets to make them more sustainable.
What opportunities are emerging in the sustainability space?
Javier:
For investors willing to provide significant capital, such opportunities offer the potential for interesting returns in the medium term. The hospitality market in Europe's major cities is undergoing significant changes, and sustainability is a critical factor driving such changes.
Investors who prioritize sustainability considerations are likely to be best positioned to identify emerging opportunities in this space, and capitalize on the potential for long-term growth and profitability.
How do you ensure that the investment approach of your firm is tailored to the specific needs of each opportunity?
Mohamed:
Investors are no longer just looking for the right investment opportunity, but also for a much more appropriate asset management and property management.
In terms of investment opportunities, they are looking for something very targeted, very specific and very personalized, not only a profitable financial operation in the medium and long term.
On the other hand, at the same time, we are seeing how the big advisory firms have been losing their close relationship with them.
And in this sense, at Alqant (advisory tech firm) we first try to understand and know perfectly the needs of each of our investors, we give them a better and much closer treatment, and we try to get that perfect investment for each of them. We do this by relying more and more heavily on technology and extraordinary teams of consultants.
Salvador:
We have a broad mandate within the multi-strategy fund that allows us to always have a value-add angle. Much of the value creation in these projects comes from the asset management and execution of the business plan.
Azora has extensive experience in the execution of strategies in different asset classes, which allows us to replicate past experiences in new markets or to be pioneers in new verticals as in the past.
Javier:
We ensure that our assessment during the investment decisions are appropriate to the unique circumstances of each opportunity by leveraging our in-depth knowledge of the local markets in which we operate.
We recognize that a well-integrated investment strategy has multiple benefits beyond simply benefiting the society in which we operate. Such a strategy can improve our competitiveness, increase our resilience, and contribute to a stronger bottom line over time.
How do you make sure these goals are achieved?
Javier:
We engage in a rigorous due diligence process to fully understand the opportunities and challenges presented by each potential investment. This process allows us to identify the key drivers of value for each investment and develop a customized approach that maximizes returns while minimizing risks.
We work closely with our investors, partners and stakeholders to ensure that their investment strategy is aligned with their goals and expectations. This collaborative approach enables us to develop tailored solutions that meet the unique needs of each opportunity and deliver sustainable long-term value to all parties involved.
Moving on to the technology aspects and specifically to the adoption of virtual data rooms in real estate, how can VDRs facilitate the deal flow/due diligence for investors and advisors?
Salvador:
In such complex deals where the highest confidentiality and transparency is needed, it is necessary to use VDRs for the execution of transactions. It also facilitates the drafting and verification of SPAs and it is an easy tool for the inclusion of R&Ws in contracts.
Mohamed:
VDRs are simplifying deal flow and due diligence for both investors and advisors. By offering secure online platforms, VDRs centralize document management, streamline collaboration, and enforce strict security measures.
Investors and advisors can organize, share and track confidential documents more efficiently, saving time and reducing costs associated with physical storage and distribution. With granular access controls, VDRs ensure confidentiality and enable seamless communication among the parties involved.
These platforms clearly improve efficiency, increase data security and facilitate smoother transaction processes, providing benefits to investors and advisors during transactions.
Javier:
VDRs have become an essential tool for facilitating deal flow and due diligence during transactions. This platform allows all information, data, and documents required for a deal to be available to all parties involved in the transaction in a fast, secure, and confidential manner.
One of the primary advantages of using virtual data rooms is that the administrator can establish different levels of access for each user based on their needs. This feature ensures that everyone has access to the information they require, while confidentiality and security are guaranteed, critical aspects of any transaction.
What other benefits does a VDR bring to the table?
Javier:
Virtual data rooms also have the advantage of streamlining the negotiation process by allowing simultaneous and orderly access to all involved parties. With a large amount of information easily uploaded, the required data and documents can be quickly and accurately searched at any time and from any mobile device.
By providing access to a centralized platform that enables secure and efficient information sharing, virtual data rooms can significantly improve the efficiency and effectiveness of the due diligence process, which can, in turn, accelerate deal flow.
For investors and advisors, the benefits of using this platform include faster and more secure access to critical information, streamlined communication, improved transparency, and increased flexibility.
Ultimately, these benefits can lead to better decision-making, reduced transaction costs, and improved outcomes for all parties involved.
Security is a key aspect when sharing sensitive data. What are the main security measures investment managers and firms are taking in 2023?
Mohamed:
The main security measures we are seeing are robust encryption to protect data, multi-factor authentication to improve access control and advanced firewall and intrusion detection and prevention systems to monitor and mitigate potential threats.
Also, comprehensive employee training programs are being implemented to raise awareness of security risks, while vendor risk management ensures that third-party vendors maintain high levels of security.
Investment firms are also employing data loss prevention solutions, conducting regular security assessments and penetration testing, and developing incident response and business continuity plans. Ongoing monitoring, audits and regulatory compliance further strengthen their security posture.
What role do you see emerging technologies such as artificial intelligence and blockchain will play in the future of transaction execution, and how can they be incorporated into virtual data rooms?
Javier:
Emerging technologies such as blockchain and artificial intelligence are expected to play a significant role in the future of transaction execution.
Salvador:
We see this as a key point when analyzing information and verifying documents in the VDR. It will speed up the work of the assessors and enable them to identify important documents in less time. The work being done to improve the content and tools of the VDR is incredible and always in favor of streamlining the work of all parties.
AI has only just been thrust into the mainstream. How do you think it will impact the sector?
Javier:
AI is another emerging technology that is expected to have a significant impact on the future of transaction execution. AI can contribute to the sophistication of the valuation processes of financial operations and facilitate the management and review of all documents in due diligence processes.
AI can also provide valuable support to deal-makers by identifying relevant information and highlighting potential issues that require attention.
Mohamed:
As Javier said before, emerging technologies such as AI and blockchain will play an important role in the execution of transactions.
AI automates document review, due diligence and risk analysis, reducing errors and improving efficiency. Blockchain provides a secure and traceable record.
When integrated into VDRs, AI facilitates document categorization, metadata extraction and risk identification, enabling quick access to relevant information. And blockchain ensures inviolable and auditable data storage in VDRs.
AI can also develop smart contracts within the blockchain, enabling automated and secure execution of transactions. This integration streamlines transactions, reduces manual efforts, increases accuracy, and improves efficiency and security in virtual data rooms.
The future of real estate
After the impressive growth experience in 2022, the beginning of 2023 for commercial real estate has been characterized by a cautious optimism.
This is due, apart from intrinsic aspects such as the cyclical nature of the industry, to more global reasons like increased interest rates (the Federal Reserve raised the interest rates 10 consecutive times between March 2022 and May 2023), inflation, and a possible recession for certain regions like the U.S. and Spain (even if the forecasts suggest it will be from mild to moderate).
What appears to be certain is that the real estate industry is experiencing a transformational paradigm at a global level that will likely change the way buildings are used, valued and transacted.
According to the experts, the commercial real estate activity in 2023 will be positively influenced by a series of trends bound to at least partially mitigate the general economic uncertainty (fueled by geopolitical tensions, market volatility and high inflation) that will probably affect the market for the second half of the year. Among these trends there are:
The rise of e-commerce (according to HSBC, retail e-commerce sales are forecast to reach 8.1 trillion dollars by 2026) will determine a consequent growth of the demand for warehouses and distribution spaces.
The demand for coworking spaces and adaptable office spaces, particularly rising in the aftermath of the Covid-19 pandemic, will keep growing (Statista estimates that the global coworking spaces market is expected to grow by 13.35 billion USD during 2021-2025, progressing at a CAGR of over 11% during the forecast period, and that by the end of 2023, there will be around 41,975 coworking spaces worldwide).
The urbanization growth is not slowing down and it will impact both commercial and residential real estate markets (the World Bank estimates that by 2050, the urban population will double its current size, which is about 4.4 billion inhabitants).
Healthcare will witness a steady growth answering the needs of a more and more aging society (just in the U.S., the national occupancy rate for private-pay seniors housing increased 100 basis points from 81.2 percent in the second quarter of 2022 to 82.2 percent in the third quarter, according to NIC MAP Vision, and it jumped significantly from the start of the pandemic to the end of the fourth quarter of 2022, rising from 77.8% to 83%).
Property technology (PropTech)
AI, Big Data, and blockchain are just some of the new technologies that, according to many, are destined to revolutionize the real estate industry as we know it. These top tech trends will be responsible for the growth of tech-oriented infrastructures, such as data centers (the global data center market is poised to reach 235 billion euros by 2026 with a projected CAGR of 4.5%).
The global push to achieve sustainability goals will be influencing ESG-driven investment decisions (the SEC's climate ruling looming in 2024 will require institutional investors to answer for the carbon footprint of their overall investments, including their real estate portfolio companies).
iDeals' white paper: Streamline real estate with a data room
We are glad to announce that our trusted partner and collaborator, iDeals, will soon be releasing a highly anticipated white paper that delves into the effective utilization of VDRs in real estate transactions.
This comprehensive document aims to provide valuable insights and practical guidance to professionals in the industry.
Follow us to ensure that you don't miss out on this resource.